41:8-13
there was a dark time
years ago
an i-wish-i-could-beat-this time
and
i read the scripture
and
i wrote myself in
i read the scripture
and
wrote ED (eating disorder) in
and
held on to
truth
But you, kendal, my servant,
whom I have chosen,
you my friend,
I took you from the ends of the earth,
from its farthest corners I called you.
I said, 'You are my servant';
I have chosen you and have not rejected you.
So do not fear, for I am with you;
do not be dismayed, for I am your God.
I will strengthen you and help you;
I will uphold you with my righteous right hand.
ED who rages against you
will surely be ashamed and disgraced;
he who opposes you
will be as nothing and perish.
Though you search for ED,
you will not find him.
He who wages war against you
will be as nothing at all.
For I am the LORD your God
who takes hold of your right hand
and says to you, Do not fear;
I will help you.
what is your battle today?
write yourself in.
hold on to
truth.
i'm working on naming 1000 gifts in my life along with
ann voskamp
(her post today is about a birth and has precious baby pics!). and for these i am thankful:
21. my brother's aerial photos
22. grandparents for my boys
23. jack's drum set (really)
24. hank's guitar
25. missionaries
26. snow days
27. my blogger community
28. my husband who gets in wood
29. my girl, the one i love, the one i mentor,
is safe <3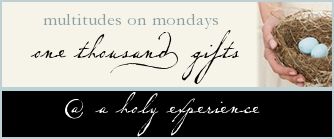 and linking up with jen for soli deo gloria sisterhood!
and a new linky for me: